Since 2008, we've worked with a lot of business owners, executives, nonprofits, associations, and others in the professional community. As a result, we have lot of experience helping clients get the most out of of their administrative projects, business processes development work, their marketing and business development strategies, and pushing their organizations to the next level.
Our mission at Rescue Desk is to help everyone who crosses our path, no matter what that looks like. So, we like to take our collective experiences and develop tools, tips and resources to share with … well … everyone.
---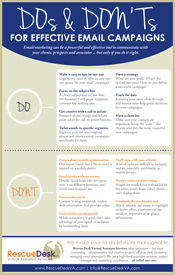 Infographic: Dos and Don'ts of Email Campaigns | DOWNLOAD
Email marketing can be a powerful and effective tool to communicate with your clients, prospects and associates…but only if you do it right.
---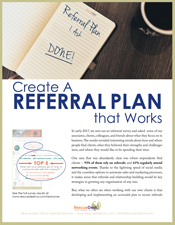 Create a Referral Plan That Works | DOWNLOAD
In January, we sent an informal survey and asked clients, colleagues, and associates where their focus is this year. One area that was abundantly clear was where we find clients – 93% of us rely on referrals and 61% of us attend networking events.
Not only do we also rely on referrals here at Rescue Desk (hint, hint…), but we've learned a ton from our own efforts and from working with business-owner clients who are successful at referral marketing.
In response to what our survey showed, we pulled together a short resource guide to help you get your head around the how/where/what/when/why of securing referrals.
Download Referral Resource Guide
---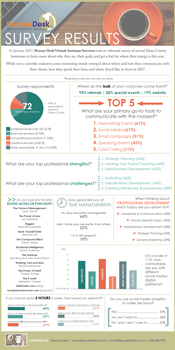 In January 2017, we took an informal survey of Dane County businesses to learn more about who they are, their goals, and to understand where their energy is focused. While not a scientific endeavor, some interesting trends showed how people communicate with clients, what some of their challenges are, and where their energy is directed.
---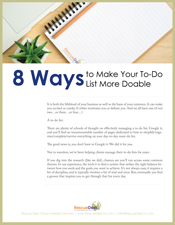 8 Ways To Make Your To-Do List More Doable | DOWNLOAD
It is both the lifeblood of your business as well as the bane of your existence. It can make you excited or cranky. It either motivates you or defeats you. And we all have one (if not two…or three…or four…). A to-do list.
There are plenty of schools of thought on effectively managing a to-do list. Google it, and you'll find an insurmountable number of pages dedicated to how to simplify/organize/complete/survive everything on your day-to-day must-do list. The good news is, you don't have to Google it. We did it for you.  Not to mention, we've been helping clients manage their to-do lists for years.
Download 8 Ways to Make Your To-Do List More Doable
---
We've helped quite a few clients get ready for trade shows, and have picked up quite a few tips and tricks along the way. The key to making sure you have everything you need before, during and after the event is to keep track of what you need to have, what you need to do, and what need to plan.
---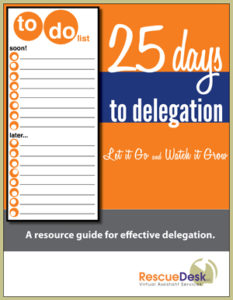 25 Days to Delegation: Let it Go and Watch it Grow | DOWNLOAD
Learning how to effectively delegate is vital in truly achieving success in business.  In this resource guide, you'll be walked through assessing your needs, important considerations that need to be addressed when you're ready to delegate, how to test and measure the success of your efforts, and what you can expect to see from an efficient delegation plan.
Download 25 Days to Delegation
---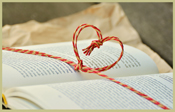 Rescue Desk Reading List | VISIT
We're firm believers that you can learn a lot about a person by what they read. Take a look at some of our favorites – from business and professional development, to the titles we pull from our shelves on a rainy Sunday afternoon.
Visit the Rescue Desk Reading List
---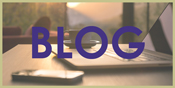 Rescue Desk Blog | VISIT
We've been in business for quite awhile. As a result, we've got a lot to say! Our blog focuses on tips, tools, stories, and resources from the world of small business, entrepreneurship, work/life balance, leadership and anything else we think is pretty cool to talk about.